where Mother Nature and luxury meet
Perched above the forest canopy and with sweeping ocean views, each of our four new Lapa Villas simultaneously immerses guests in the spectacular wild nature of the Osa Peninsula. All around you is primary rainforest brimming with bird and mammal wildlife, merging with the turquoise palette of the Golfo Dulce (sweet gulf), home to whales, dolphins, sea turtles and three point breaks coveted by surfers. Take in the perfection of this natural paradise, accompanied by the call of monkeys passing through the treetops, the chatter of brilliantly colored Macaws overhead, and the splash of a breaching Humpback whale or diving sea bird.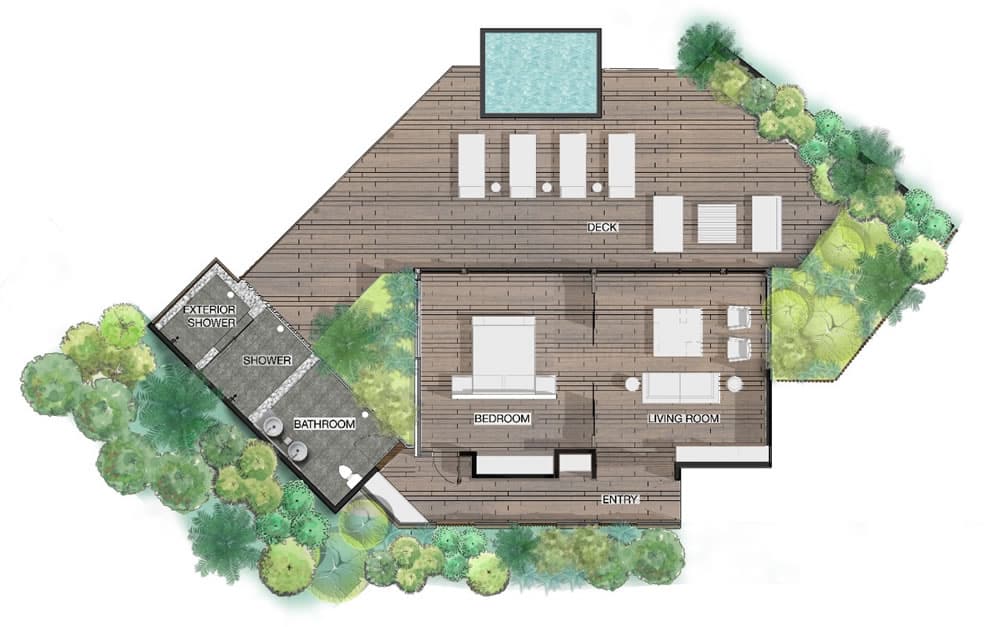 Each stand-alone villa features smooth hardwood flooring and elegant natural accents. Floor to ceiling screens and a wide wrap-around deck ensure stunning views. The outdoor terrace has its own private rain shower, a refreshing plunge pool, and comfortable chairs and lounges. Indoors you'll be greeted with authentic-design furniture, a living area with a daybed plus a beverage nook with gourmet Costa Rican coffee. The master bedroom features one King bed with Simmons Beautyrest mattresses, fine linens, and eco-fans. The villa has a spacious bathroom with two solar-heated rain showers. Lapa Villas can accommodate up to 5 persons and are perfect for a family rainforest adventure.
Other Features of our Lapa Villas include:
• Complimentary onsite Lapa Rios Experiences
• Wellies for hiking and exploration
• Naturally sourced luxurious amenities (body cream, shampoo, and conditioner)
• Complimentary Gourmet Costa Rican Coffee and Coffeemaker
• Laptop size safe
• Twice-daily housekeeping
• Turndown Service
• Hairdryer
• Bathrobes
• Hot Water
Questions About Lapa Villas?