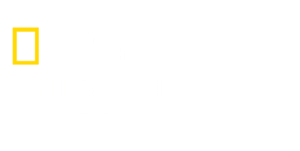 ADVENTURE-PLANNING
You Have Questions? We Have Answers!
---
Watch the Video here: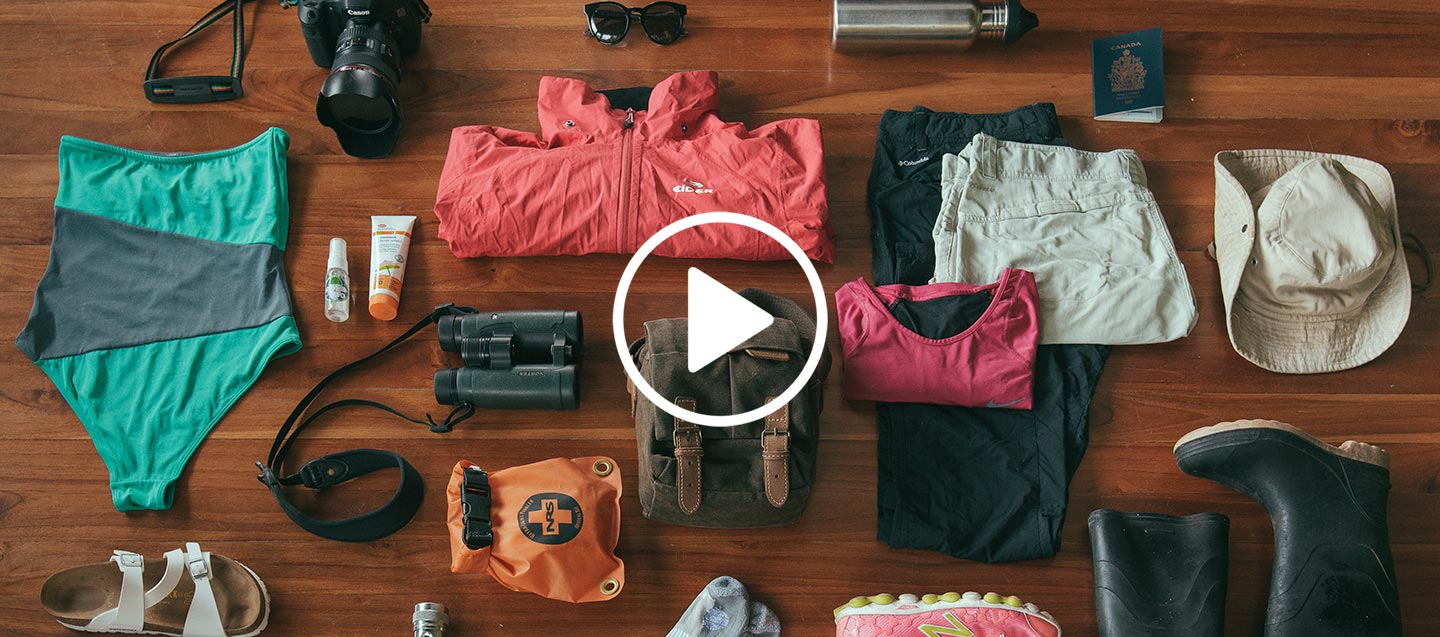 The following is a list of suggested items to bring on your rainforest adventure. Please keep in mind that luggage on the domestic flights is restricted to 30lb per person.
Lightweight, casual clothing appropriate for hiking such as light pants, shorts and shirts. Our dress code at the property is completely informal, so don't worry about bringing smart clothes for dinner or formal apparel. Bring a couple of extra shirts as hiking can be a sweaty affair!
Knee-high sports socks (for comfort should you choose to wear our rubber boots for the rainforest hikes). Should you bring your own boots, we recommend lightweight, comfortable hiking or walking shoes that are waterproof.
Sandals or water shoes
Bathing suits & sunscreen
Insect repellent
Light raincoat when visiting during the rainy season
Camera
Basic medical kit (aspiring, band-aids, Imodium, antiseptic cream, anti-histamine cream etc.)
Refillable water bottle
Binoculars (or you may borrow them from reception)
Note: We ask our guests to kindly refrain from using electric hairdryers as this would strain our biodiesel-powered generators. Thank you for your understanding.
---
We're located in the tropics and close to the equator. Costa Rica is considered a rainforest country and warm temperatures are characteristic throughout the year. There are two well-defined seasons:
Dry Season: December – April
Rainy Season: May – November
The rain, especially on the Pacific coast, typically occurs during the afternoon or evening and is "warm". We experience a short mid-year mini Dry Season towards the end of July and beginning of August when rainfall decreases significantly for 3-4 weeks. The rainiest months are September and October, especially in the south Pacific region.
Note: The climate in San Jose is often very different to the coastal regions. A medium-weight fleece jacket is highly recommended for cooler nights in and around the capital.
TEMPERATURE & RAINFALL CHART FOR THE OSA PENINSULA
| | JAN | FEB | MAR | APR | MAY | JUN | JUL | AUG | SEP | OCT | NOV | DEC |
| --- | --- | --- | --- | --- | --- | --- | --- | --- | --- | --- | --- | --- |
| Avg. Max. Temp. (F) | 91 | 92 | 92 | 91 | 90 | 89 | 89 | 89 | 90 | 89 | 89 | 90 |
| Avg. Min. Temp | 72 | 71 | 73 | 73 | 73 | 72 | 71 | 71 | 71 | 71 | 71 | 71 |
| Avg. Rainfall (inches) | 6,30 | 5,70 | 8,00 | 11,00 | 18,90 | 17,50 | 18,90 | 20,90 | 22,00 | 27,70 | 22,30 | 11,60 |
---
Below are some general visa guidelines, but please check with your airline or travel agent to confirm your legal requirements for entering Costa Rica. All visitors to Costa Rica need a passport valid for at least 6 months at the date of entry.
1. Visa not required for nationals of the USA, Argentina, Austria, Belgium, Brazil, Canada, Czech Republic, Finland, France, Germany, Greece, Hungary, Israel, Italy, Japan, Korea (Rep), Liechtenstein, Luxembourg, Monaco, Netherlands, Norway, Panama, Paraguay, Poland, Portugal, Puerto Rico, Romania, Spain, Sweden, Switzerland, Trinidad & Tobago, Uruguay, and the UK and its dependencies for stays of up to 90 days.
2. Visa not required for nationals of Antigua & Barbuda, Australia, Bahamas, Barbados, Belize, Bolivia, Bulgaria, Chile, Dominica, El Salvador, Estonia, Grenada, Guatemala, Guyana, Honduras, Iceland, Ireland, Jamaica, Kenya, Mexico, New Zealand, Philippines, Russia, St Kitts & Nevis, St Lucia, St Vincent & The Grenadines, San Marino, Singapore, Slovak Republic, South Africa, Suriname, Taiwan, Turkey, Vatican City and Venezuela for stays up to 30 days.
---
No immunizations, shots, inoculations or vaccinations are required to enter Costa Rica. However, it would be wise to check with your personal physician for individual recommendations.
---
Lapa Rios can be reached either by plane or by car from the capital city, San Jose. You can find more detailed information on travelling to the lodge on our dedicated
Getting Here page
.
---
---
Costa Rica is the ultimate tropical getaway. Home to rainforests, cloud forests, active volcanoes, and both Caribbean and Pacific beaches, the opportunities for exploring – or relaxing – are endless. Despite its small size, Costa Rica holds approximately 5% of the world's biodiversity, making it a dream destination for wildlife lovers too. Sloths, monkeys, scarlet macaws, toucans, quetzals and more are easily spotted in the wild.
Getting around is also hassle-free. Domestic, carbon neutral airlines like Sansa connect all the regions of Costa Rica. The longest internal flight route is under 1 hour. Roads and highways are well-maintained too, and driving between destinations is unlikely to ever take more than 4 hours.
Importantly, Costa Rica is also considered a safe travel destination. We don't even have a national army!
---
The pristine rainforests, secluded beaches and raw natural beauty of the Osa Peninsula make this region among the most captivating in Costa Rica. Remote and unspoiled, the Osa is home to the world-famous Corcovado National Park as well as an astounding 2.5% of the world's biodiversity. According to National Geographic, this makes it "the most biologically intense place on Earth" and a natural choice for nature and wildlife lovers.
---
Lapa Rios owns a renowned Travel Agency called Tour Costa Rica. We can assist you planning a tailored vacation to enjoy as much of Costa Rica as possible during your visit. In the following link you can find an example of one of our top selling experiences that includes Pacuare Lodge, our sister lodge and also a member of National Geographic Unique Lodges of the World: Costa Rica Off The Beaten Track
---
In the case of an emergency, a medical clinic is located 30-45 minutes from the lodge. We always have a vehicle on the property in case emergency transport is needed. Additionally, Puerto Jimenez has an emergency flight service that can transport patients to the nearby hospital in Golfito (8 min flight) or to San Jose (50 min flight).
Medical care in Costa Rica is of very high quality and considered to be the best in Central America. San Jose especially has excellent hospitals, medical facilities and doctors, many of whom have qualified in the US or in Europe.
*Please make sure you bring enough of your personal medications as the pharmacy in Puerto Jimenez only offers basic medical products.
---
We advise taking out comprehensive travel and medical insurance to cover yourself and any dependents/travel companions for the duration of your stay in Costa Rica. As a minimum, this insurance should include:
– Emergency evacuation expenses
– Medical expenses
– Repatriation expenses
– Cancellation or curtailment of trip
– Damage/theft/loss of personal luggage, money and goods
In case of medical emergencies, most Costa Rican doctors and hospitals expect payment in cash, regardless of whether you have travel health insurance or not. If your health insurance does not cover you for medical expenses while you are abroad, you should consider supplemental insurance. It may also be worth finding out in advance if your insurance plan will make payments directly to providers or if they reimburse you later for any overseas health expenditures.
---
If you don't speak Spanish, don't worry. At Lapa Rios we speak excellent English, and are happy to teach you some Spanish phrases too! Apart from in the most rural areas of Costa Rica, you should have little problem with language barriers. Many Costa Ricans have at least a basic knowledge of English.
---
Carbon offsets are voluntary donations that can be made to compensate, or offset, greenhouse gas emissions from transport, electricity use, and other sources. In an effort to promote sustainable development and tourism, the Costa Rican Ministry of Environmental Affairs has created a program in which tourists can compensate the carbon emissions from their international flights by investing in programs that preserve and reforest natural areas within Costa Rica. You can find more information on the program's website (http://www.fonafifo.go.cr/) or ask us!
---
Did We Cover Everything? If Not, Ask Us!
GET IN TOUCH
BY ONLINE CHAT
Daily 7AM-6PM CST
Quick Answers. Always!
BY PHONE
Daily 7AM-6PM CST
Toll free US & Canada:
+1 800 963-1195
Reservations:
+506 4070-0420
BY EMAIL
FAQ's
Questions? We've got answers for you!
OUR LOCATION
Cabo Matapalo
Puerto Jimenez
Costa Rica
GPS: 8º24'1" N, 83º16'50″W