Lapa Rios First Year
When we took ownership of Lapa Rios Lodge one year ago today, our mission was twofold; to create a locally-owned luxury lodge experience without parallel on the Osa Peninsula and to align the conservation & sustainability initiatives of Lapa Rios with those of Pacuare Lodge, which our family has co own and operated for more than thirty years. Of course we never thought we'd celebrate our first anniversary in the midst of a global pandemic, with international borders closed to travel. But while the pause in tourism has forced us to reimagine some of our plans for Lapa Rios, it has given us the opportunity to appreciate the dedication of our enthusiastic and talented team. They've accomplished a lot in just a year, and the milestones shared below would never have been possible without their work ethic and positive outlook.
Energy: Out with the Old, In with the Renewable
Perhaps the change that we are most proud of is converting Lapa Rios to 100% reliance on sustainable and renewable sources of energy. The lodge has always been "off the grid" but for decades Lapa Rios relied on fossil-fuel generators for power. In September 2019 we began designing and implementing new solar and hydro energy sources, based on the systems we have used to power Pacuare Lodge for years. Today at Lapa Rios, we have in place a robust system of 220 solar panels and 10 nano turbines that provide the property with 100% of its energy needs.
Villas Deserving of the View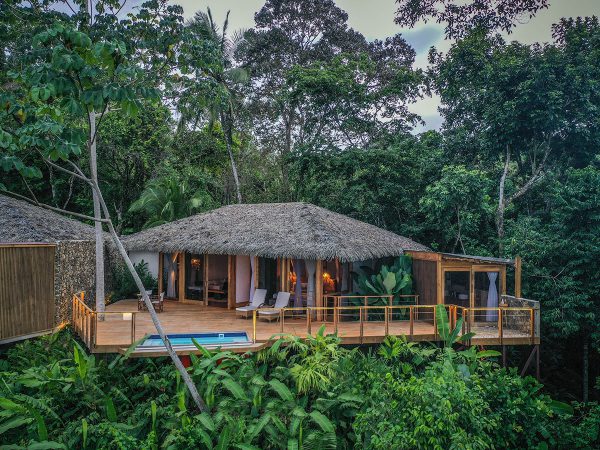 Without question, Lapa Rios has an enviable location. Perched on a high ridge, you are simultaneously surrounded by lush rainforest canopy, uninhibited wildlife and unobstructed ocean views of the Golfo Dulce.  However, the existing bungalows at the time of purchase dated from the early 90s and had never been extensively renovated to match the expectations of true luxury travelers.  So in just four months we designed and built six new villas (four of which have private swimming pools) to replace the deluxe bungalows closest to the beach. These new villas can accommodate up to 6 guests (ideal for families) and in some cases can be configured as "adjoining" for couples or friends traveling together.The sleek and modern interior design reflects our respect for local Costa Rican culture & traditions and the large windows and wrap around decks ensure a close yet comfortable immersion in this unique natural world. The villas opened in December 2019 and have been applauded by enthusiastic guests. In July 2020 we will install Evening Breeze beds in the six Villas, which provide the comfort of an air-cooling system over the bed to ensure a comfortable sleep, even on warm nights. Additionally our remaining deluxe bungalows were all recently refreshed and equipped with the latest silent, high power/low energy consumption ceiling fans.
Elevated Culinary Experience
To redesign the Lapa Rios menu, we called upon our friend Greece-born Chef, George Belesis, who had previously assisted us with reinventing the menu at Pacuare Lodge. Together with local chefs from Lapa Rios and Pacuare, Chef Belesis created an intensive culinary training program, using modern technology and techniques to creatively highlight local ingredients in inventive ways. This led not only the creation of our attractive new menu, but also the construction of a much larger and completely new kitchen, complete with state-of-the-art equipment that reflects our passion for good food.
We also built a new spot for enjoying drinks, meals and wonderful views of the Golfo Dulce. Our new bar faces out over the ocean and from its expansive terrace you can watch the sunset, waves roll in and whales spout (in season). In July 2020 we will offer a wine cellar with a wide selection of vintages from around the world.
Connectivity & Communication
While Lapa Rios offers the perfect opportunity to put away your device and connect more meaningfully with the natural world, we understand that communication is essential, particularly in this era of increasingly remote work possibilities. In  the first phase of expansion, we've already increased our WiFi connection to offer 100 MB in all social areas of the Lodge and in phase two we will provide internet to all rooms via fiber optic cable.
Transportation
Drawing inspiration from renowned African safari lodges like Tswalu, we exchanged all of our 4×4 vehicles for new Land Cruisers, which are undoubtedly the most comfortable way for guests to navigate the rugged terrain and roads in our area. We also adapted a 4WD pick-up truck with comfortable stadium-style seating & a sun canopy, creating the perfect open-sided vehicle for bird watching and photography excursions.
Beach Experience
We also made the beautiful beaches and coastline of tropical Gulfo Dulce more accessible to Lapa Rios guests by offering daily complimentary beach transfers to Playa Pan Dulce.  Our close proximity to the soft sand, gentle swimmable waters of Playa Pan Dulce sets Lapa Rios apart from other rainforest lodges in the area, but in the past guests mainly reached the beach on foot and lacked the amenities to enjoy a beach day in comfort. We now privately transport guests down to the beach in our own 4WD vehicles and set up lounge chairs & refreshments to create a remote & private "beach club" experience for just our guests. Surfing & SUPing can also be arranged through a local outfitter with excellent equipment and great instructors.
Experiences on the Osa Peninsula
After an extensive audit of all of our included guest experiences (those guided excursions offered on our private 1,000 acre rainforest preserve) and additional excursions operated by third parties, we elevated all guest experiences across the board to match our operations at Pacuare Lodge.
One of our most outstanding experiences, a day-trip to Corcovado National Park, was redesigned to significantly reduce transfer times and maximize the amount of time a guest spends within the park, considered the 'crown jewel' of Costa Rica's extensive park system and the best place to see tapirs. Previously the exhausting trip to Corcovado required a 4:00 am start, nearly 5 hours of bumpy roads and a boat trip from Drake Bay to La Sirena Ranger Station for a day that lasted upwards of 10 hours and was very tiring for most guests. Now, with access to a new boat built specially to navigate these waters, guests of Lapa Rios can enjoy breakfast at a reasonable hour, then take just a 10 minute transfer to Matapalo Beach for the 90 minute boat journey along the coast to the La Sirena park entrance, an experience that often includes  spotting dolphins, turtles and whales (in season).
Lastly, we outfitted our knowledgable naturalist guides with the newest optical equipment, implemented new protocols to enable a more private and customized guest experience, and will continue to refine & improve the details of our included excursion throughout 2020 and 2021.
Conservation is in Our DNA:
If you know the story of our sister property, you know that the very first Pacuare Lodge employee hired by Roberto Fernandez was Gerardo, the most highly skilled hunter in the local community, who Roberto correctly assumed would also make the best wildlife guide.  Pacuare's operating philosophy has always been that responsible tourism should benefit and respect local communities, and provide local people with viable economic opportunities that prioritize conservation over extraction.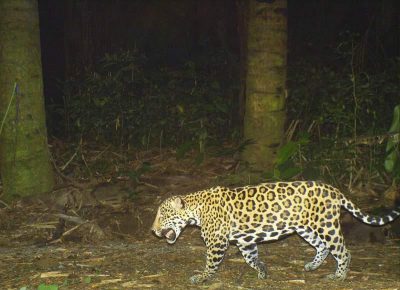 At both Lapa Rios and Pacuare Lodge we have implemented a mandatory Conservation Fee of $25 per guest, to support specific conservation, education and sustainability  projects carried out by both lodges. At Lapa Rios, this fee has enabled us to support Corcovado National Park through the hiring of two administrative personnel. This keeps park rangers away from the office desks and out on patrol through the park where they can best address the constant threats of illegal hunting, illegal logging and illegal gold mining.
We've also partnered with the Wildlife Department at the National University of Costa Rica to finance an extensive study of the Osa Peninsula's peccary & jaguar populations through the use of camera traps. The first 30 camera traps have already been donated to the team of researchers and we hope to continue with the implementation of the project as soon as the tourism returns.
As our partners at The Long Run say "Nature Never Stops." Neither do we, and we look forward to stewarding the continued evolution of both Pacuare Lodge & Lapa Rios. Our mission remains to offer travelers and adventure seekers the opportunity to experience Costa Rica's most stunningly beautiful natural places through a lodge concept that is truly luxurious, immersive and driven by conservation. The unforgettable and unscripted experiences that occur at our properties transcend the lives of all participants and ensure that even while borders are closed, the passion to protect and preserve our ecosystems and cultures continues to thrive.
Roberto Fernández
Managing Director / Co owner
For reservations, chat to us below or drop us a note at [email protected].