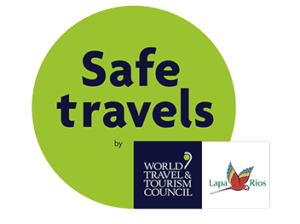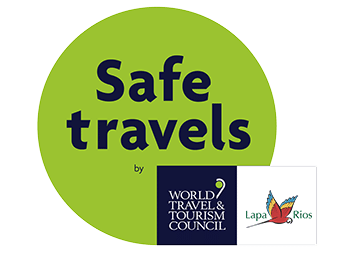 ---
Complimentary: Choose one option
Homemade Bread basket: banana, corn, squash bread
Fruit Plate: tropical and seasonal fresh fruits.
Homemade Granola:
Tasty  and healthy homemade mix of whole grain oats and nuts, served with natural yogurt and fresh fruits
Whole Oats:
A rich and healthy breakfast of oatmeal in soy milk or almond milk with Banana, strawberries, blueberry, chia seeds and almonds accompanied with honey. It will become one of your favorites.
Breakfast Wrap:
Mushrooms, spinach, Turrialba cheese, ripe bananas, scrambled egg whites wrapped in a flour tortilla and served with guacamole and pico de gallo
Eggs and toasts:
Two eggs cooked to order, avocado, toasts (to choose white bread or whole wheat homemade bread), served with our seasonal fruit jelly and Butter.
Tico Breakfast:
Our flagship plate, the Gallo Pinto, accompanied by eggs cooked to order, Turrialba cheese, caramelized plantain, avocado, and homemade corn tortillas.
Pancakes:
Compote to choose macadamia-blackberry, banana-cashew, mango-coconut and choice of orange-coconut, guava-cinnamon syrup or maple syrup.
Extra order: eggs cooked to order, pico de gallo, house chili sauce and guacamole.
Specialties of Our kitchen:
French Toasts
Authentic preparation in homemade bread thick slices accompanied by tamarind  syrup and fresh fruit with cashew.
Garden Omelette
You have the option to choose the preparation you want, with whole or egg whites, stuffed with caramelized onions, sweet pepper, white mushrooms, spinach and goat cheese. Accompanied with potato croquettes and fresh salad.
Lapa Style Benedictine Eggs
Two poached eggs with beef, spinach and onions, served on homemade corn muffins, topped with our chipotle sauce and clarified butter.
---
Cucumber Soup
Cold cucumber and yogurt soup, served with avocado cream, cucumber rolls, cherry tomato and peppermint.
Tuna Slices
Tuna roll in sesame crust, with guacamole, marinated diced tomato and soy sauce with citrus flavors.
Mozzarella Basil
Tico buffalo cheese, accompanied by a variety of tomatoes, cucumber rolls, radish, strawberry slices and basil oil.
Red Fruits Salad
Mixed salad, fresh red fruits, caramelized seeds, radish slices, balsamic reduction and red fruit dressing.
 __________________________________________________
Chicken Stir Fry
Meaty chicken with seasonal vegetable mix, oyster sauce with jasmine rice in coconut milk and sesame seed
Pasta with Romesco sauce
Prepared with Mushrooms in Soy, Roasted Vegetable Sauce with nuts, served with Parmesan Cheese
Fish Filet
Fresh fish fillet with potatoes in spices, green vegetables and fresh mango salad
Homemade Pita Bread with Vegetables Skewers
Served with a delicate preparation of marinated couscous, and diced tomato
Basil Roll
Puff pastry, stuffed with ricotta cheese, fresh mushrooms and basil leave over gorgonzola cheese sauce, nuts and basil oil
Grilled Calamari
Served with red potato in passion fruit reduction, basil pesto, crispy potato, cheese parisien and morron chili sauce
Black Beans Coconut Soup
Traditional Costa Rican black bean soup with coconut milk, served with poached egg and coyote coriander. __________________________________________________
Beef Tenderloin
With mixed basmati rice,local vegetables, caramelized red cabbage and banana sauce.
Tuna Steak
Fresh tuna accompanied with kale, mash sweet potato, romanesco and mango chutney.
Pork Tenderloin
Served with carrot textures, brussels sprouts, cauliflower puree and a delicious oriental sauce.
Seafood Soup
A traditional mix of seafood with vegetables, coconut milk, ginger and jasmine rice
Pumpkin Farro
Exquisite vegetarian dish, farro risotto with pumpkin sauce, vegetables and spinach
Green Curry
Delicious mix of wild rice and jasmine rice, with mini vegetables and curry sauce with herb paste
 __________________________________________________ 
Plain Yogurt Panna Cotta with strawberry compote
Organic Chocolate Cake and ice cream
Millefeuille Strawberries White Chocolate Mousse
Mango Gazpacho
Chilled mango & ginger soup served with torched mango, cucumber slices, green papaya and pecans
Tuna Salad
Seared fresh tuna, sesame flavored green beans, roasted potato cubes, mixed greens, bread crusted egg and soya dressing
Beet Salad
Roasted beetroot slices, raw beet flakes and hearts of palm on a bed of spinach served with passion fruit dressing
Costa Rican Ceviche
Fresh fish marinated in spiced lemon juice and ginger, with chili pepper, red chili, julienned onion, served with yucca flakes and coriander
 __________________________________________________
Beef Sub
Slowly cooked beef served in toasted homemade bread with tamarind sauce, fresh tomato, red cabbage relish and arugula. Accompanied with chips of the day, herb aioli and Panamanian chili dressing
Catch of the Day
Grilled fresh fish fillet with miso glaze, sautéed kale and black quinoa with grilled pineapple sauce and turmeric-lemon aioli
Falafel Burrito
With chickpea and herb falafel, grilled zukini, bell pepper, roasted aubergine, cucumber, carrot and lettuce, served with homemade chips, pico de gallo and guacamole
Chifri Lapas
Typical Costa Rican dish made with crispy pork bites, white rice, slow cooked beans, Pico de Gallo and avocado. Served plantain chips   
---
Chicken soup
With coconut milk, mushrooms, ginger, green curry, lemongrass and grissini bread
Fillo Pasta Rolls
Stuffed with goat cheese, almonds and honey, served with beetroot textures,spinach leaves and balsamic reduction
Pan Dulce
Fresh fish Tiradito marinated in lemon juice, served over sweet orange slices with spicy ají sauce, red onions, chives
__________________________________________________
Duck breast glazed with honey, beer and spices
Papaya & carrot puree, onion petals, glazed carrots and crispy kale
Hanger steak
Served with white beans and turmeric puree, mushrooms pesto, roasted hearts of palm and green peppercorn sauce
Sea bass fillet with herbs crust
Served on top of citrus flavored cassava with grilled corn and broccoli cream
Guacho Rice
Traditional recipe with a twist, risotto with fresh shrimps, mussels and grilled Octopus
Gratin Pasta
Exquisite pasta with herb pesto gratin with Costa Rican buffalo mozzarella cheese
Pumpkin Bowl
Spicy pumpkin, white beans with lemon, Served with avocado, chives, brown rice, mango and cashew seeds.
 __________________________________________________
Traditional flambé pineapple with rum and a side of vanilla ice cream
Citrus tart with butter-pie crust base and torched meringue
Duo of coconut cream and moist cake, coconut milk & bitter chocolate ganache
---
Green Gazpacho
Chilled soup with basil, kale, avocado, spinach and citrus flavors, served with green raw vegetable flakes
Quinoa Salad
Quinoa mix, cherry tomato, lettuce mix, baby corn, fresh parsley, chickpeas, buffalo mozzarella, cucumber and lemon-maple dressing
Arugula Salad
Arugula salad, fresh strawberries, caramelised walnuts, crostini with goat cheese, chia seeds and radish slices, balsamic reduction and strawberry dressing
Tropical Fish Salad
Fresh Fish croquettes, served on mixed green salad with carrot, radish, green papaya, hearts of palm, mango and passion fruit dressing
__________________________________________________
Pork Ribs
Oven roasted pork ribs in a Hoisin-glaze, served with rustic potatoes and sesame flavored green beans
Veggie Club Sandwich
With homemade whole wheat bread, grilled veggies in basil pesto and local mozzarella cheese. Choose between chips of the day with herb aioli or mixed greens salad
Fish Tacos
Grilled fresh fish served on homemade corn tortillas with guacamole, red cabbage relish, lettuce, grilled pineapple, house chili and lemmon
Costa Rican Casado
Choice of slow cooked premium pulled beef, fresh fish or free-range chicken breast in sauce. Served with white rice,blackbeans,corn tortilla, criolla salad and picadillo   
---
Carrot soup
Hot carrot soup with carrot chutney, carrot confit,raw carrot flakes and fennel oil
Grilled Octopus
Slowly cooked and grilled fresh octopus, chickpeas salad, herbs pesto and red pepper sauce
Fresh Tuna Tartare
With raw green papaya, radish, asparagus and coconut-ginger dressing
__________________________________________________
Pork Duo
Pork tenderloin and pancetta, with roasted pumpkin, corn puree, caramelized leeks, sweet red wine sauce and macadamia nuts crumble
Lamb Loin
Slowly cooked rack and boneless loin of Costa Rican lamb, served with eggplant puree, potatoes confit, lemon emulsion and Osa vanilla flavored jus
Lemon Risotto
Saffron flavored risotto, served with catch of the day fish fillet and capers sauce
Cauliflower Steak
Marinated in spices, roasted and served with wild rice and yogurt-tahini sauce
Free Range Chicken Breast
Local farmed chicken breast, roasted with Chimichurri butter, served with handmade fettuccine pasta with mushrooms variety
Fungus Texture
Variety of mushrooms and different preparations, crispy kale and porcini sauce
 __________________________________________________
Milk Chocolate mousse, macadamia nuts cake and Costa Rican coffee Chantilly
Traditional Coconut flan
Passion fruit cake with white chocolate mousse and passion fruit espuma
Mango Mousse
Creamy mango mousse served with fresh mango, coconut crumble & passion fruit sauce
Tropical Fruit Platter
Fresh seasonal fruits cut in different shapes
Fruit Granita
Tropical fruits frozen and blended, ask for the different flavors
Osa Vanilla Ice Cream Cake
Traditional sponge cake and vanilla ice cream, served with red fruits
Cheese Cake
Cream cheese mousse on a granola base with turrialba cheese, served with homemade guava jam, homemade dulce de leche and basil
"BOCAS" is a word that means snack or meal in a smaller portion offered in bars to accompany the drink of preference.
In Lapa Ríos the "Bocas" are available from 3:00 pm – 6:00 pm
Cassava balls
It is a traditional dish in Costa Rica, stuffed with meat or cheese, with green papaya salad and aji mayonnaise
House chips
Chips of the day, accompanied by guacamole, pico de gallo and ground beans.
Assorted Plate
Homemade corn tortillas accompanied by chayote picadillo, plantain picadillo with curry and coconut milk and palm heart picadillo
Bruschetta
Slices of homemade toast bread, smeared with sweet garlic and parsley, olive oil, diced tomato, basil and fresh buffalo Costa Rica mozzarella
Mixed seeds
Mixed seeds and raisins, seasoned with pepper salt, lemon and curry
Little and Larger Appetites!
PB & J  HomeSandwich
Homemade fruit jelly and peanut butter over white bread, served with  tropical fruit cubes.
Osa Burrito
Grass-fed chicken breast or fish fillet with ground black beans, cheddar cheese, rolled in a wheat tortilla and served with guacamole and pico de gallo  or fresh fruits.
Howler Quesadilla
Flour tortilla filled with chicken breast or fish fillet or grill vegetables, cheddar cheese and mozzarella cheese. Served with guacamole and pico de gallo or fresh fruits.
Rio's pasta
Penne pasta tossed in fresh tomato sauce or butter, served with parmesan cheese. If you like, you may add chicken breast or fish filet.
Golfo Dulce grilled fish or chicken filet
Served with white rice and green salad or grilled vegetables.
Dessert:
Tropical fruit cup
Brownie with vanilla ice cream
Coconut flan
Cheesecake with dulce de leche
---
GET IN TOUCH
BY ONLINE CHAT
Daily 7AM-6PM CST
Quick Answers. Always!
BY PHONE
Daily 7AM-6PM CST
Toll free US & Canada:
+1 800 963-1195
Reservations:
+506 4070-0420
BY EMAIL
FAQ's
Questions? We've got answers for you!
OUR LOCATION
Cabo Matapalo
Puerto Jimenez
Costa Rica
GPS: 8º24'1" N, 83º16'50″W