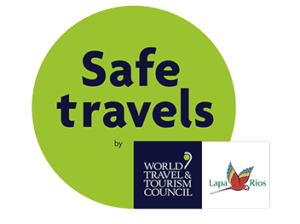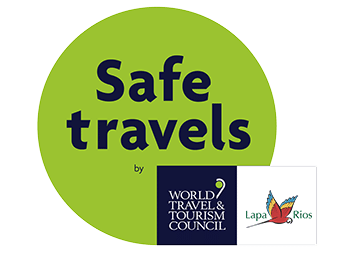 ---
Complimentary: Choose one option
Homemade Bread basket: banana, corn, squash bread
Fruit Plate: tropical and seasonal fresh fruits.
Homemade Granola:
Tasty  and healthy homemade mix of whole grain oats and nuts, served with natural yogurt and fresh fruits
Whole Oats:
A rich and healthy breakfast of oatmeal in soy milk or almond milk with Banana, strawberries, blueberry, chia seeds and almonds accompanied with honey. It will become one of your favorites.
Breakfast Wrap:
Mushrooms, spinach, Turrialba cheese, ripe bananas, scrambled egg whites wrapped in a flour tortilla and served with guacamole and pico de gallo
Eggs and toasts:
Two eggs cooked to order, avocado, toasts (to choose white bread or whole wheat homemade bread), served with our seasonal fruit jelly and Butter.
Tico Breakfast:
Our flagship plate, the Gallo Pinto, accompanied by eggs cooked to order, Turrialba cheese, caramelized plantain, avocado, and homemade corn tortillas.
Pancakes:
Compote to choose macadamia-blackberry, banana-cashew, mango-coconut and choice of orange-coconut, guava-cinnamon syrup or maple syrup.
Extra order: eggs cooked to order, pico de gallo, house chili sauce and guacamole.
Specialties of Our kitchen:
French Toasts
Authentic preparation in homemade bread thick slices accompanied by tamarind  syrup and fresh fruit with cashew.
Garden Omelette
You have the option to choose the preparation you want, with whole or egg whites, stuffed with caramelized onions, sweet pepper, white mushrooms, spinach and goat cheese. Accompanied with potato croquettes and fresh salad.
Lapa Style Benedictine Eggs
Two poached eggs with beef, spinach and onions, served on homemade corn muffins, topped with our chipotle sauce and clarified butter.
---
Cucumber Soup
Cold cucumber and yogurt soup, served with avocado cream, cucumber rolls, cherry tomato and peppermint.
Tuna Tataki
Tuna roll in sesame crust, with guacamole, marinated diced tomato and soy sauce with citrus flavors.
Basil Mozzarella
Local mozzarella cheese, accompanied with variety of cherry tomatoes, cucumber rolls, radish, strawberry slices and basil oil.
Chickpeas & Spinach salad
Chickpeas marinated with citrus dressing, roasted peppers, olives, cherry tomatoes and capers.
 __________________________________________________
Chicken Stir Fry
Chicken breast with seasonal vegetables in oyster sauce,  served with jasmine rice.
Pasta with Romesco sauce
Penne pasta in Romesco sauce with nuts, served with soy flavored mushrooms and Parmesan cheese.
Fish Filet
Fillet of fresh fish, served with green vegetables, potato salad with Dijon mustard and mango relish.
Vegetable Skewers
Served with homemade pita bread, marinated couscous and diced tomato.
Basil Roll
Puff pastry, stuffed with ricotta cheese, fresh mushrooms and basil leave over gorgonzola cheese sauce, nuts and basil oil
Grilled Calamari
Grilled  calamari with roasted tomato sauce, capper, green olive, black olives, red onions, squid ring, roasted pepper, crispy cassava and jalapeño green oil
Black Beans Coconut Soup
Traditional Costa Rican black bean soup with coconut milk, served with poached egg and coyote coriander. 
__________________________________________________
Beef Tenderloin
With mixed basmati rice,local vegetables, caramelized red cabbage and banana sauce.
Tuna Steak
Fresh tuna accompanied with kale, mash sweet potato, romanesco and mango chutney.
Pork 
Pork tenderloin & panchetta, charred leek puree, crispy fried yuca, pickled cabage and mustard sauce.
Seafood Soup
A traditional mix of seafood with vegetables, coconut milk, ginger and jasmine rice
Pumpkin Farro
Exquisite vegetarian dish, farro risotto with pumpkin sauce, vegetables and spinach
Green Curry
Delicious mix of wild rice and jasmine rice, with mini vegetables and curry sauce with herb paste
 __________________________________________________ 
Plain Yogurt Panna Cotta with strawberry compote
Organic Chocolate Cake and ice cream
Millefeuille Strawberries White Chocolate Mousse
Mango Gazpacho
Chilled mango & ginger soup served with torched mango, cucumber slices, green papaya and pecans
Tuna Salad
Seared fresh tuna, sesame flavored green beans, roasted potato cubes, mixed greens, bread crusted egg and soya dressing
Beet Salad
Roasted beetroot slices, raw beet flakes and hearts of palm on a bed of spinach served with passion fruit dressing
Costa Rican Ceviche
Fresh fish marinated in spiced lemon juice and ginger, with chili pepper, red chili, julienned onion, served with yucca flakes and coriander
 __________________________________________________
Beef Sub
Slowly cooked beef served in toasted homemade bread with tamarind sauce, fresh tomato, red cabbage relish and arugula. Accompanied with chips of the day, herb aioli and Panamanian chili dressing
Catch of the Day
Grilled fresh fish fillet with miso glaze, sautéed kale and black quinoa with grilled pineapple sauce and turmeric-lemon aioli
Falafel Burrito
With chickpea and herb falafel, grilled zukini, bell pepper, roasted aubergine, cucumber, carrot and lettuce, served with homemade chips, pico de gallo and guacamole
Chifri Lapas
Typical Costa Rican dish made with crispy pork bites, white rice, slow cooked beans, Pico de Gallo and avocado. Served plantain chips   
---
Chicken soup
With coconut milk, mushrooms, ginger, green curry, lemongrass and grissini bread
Fillo Pasta Rolls
Stuffed with goat cheese, almonds and honey, served with beetroot textures,spinach leaves and balsamic reduction
Pan Dulce
Fresh fish Tiradito marinated in lemon juice, served over sweet orange slices with spicy ají sauce, red onions, chives
__________________________________________________
Chicken Breast
Chicken breast with cauliflower textures, red curry sauce, tiquisque chips and glazed red potatoes
Hanger steak
Served with white beans and turmeric puree, mushrooms pesto, roasted hearts of palm and green peppercorn sauce
Sea bass fillet with herbs crust
Served on top of citrus flavored cassava with grilled corn and broccoli cream
Guacho Rice
Traditional recipe with a twist, risotto with fresh shrimps, mussels and grilled Octopus
Gratin Pasta
Exquisite pasta with herb pesto gratin with Costa Rican buffalo mozzarella cheese
Pumpkin Bowl
Spicy pumpkin, white beans with lemon, Served with avocado, chives, brown rice, mango and cashew seeds.
 __________________________________________________
Traditional flambé pineapple with rum and a side of vanilla ice cream
Citrus tart with butter-pie crust base and torched meringue
Duo of coconut cream and moist cake, coconut milk & bitter chocolate ganache
---
Green Gazpacho
Chilled soup with basil, kale, avocado, spinach and citrus flavors, served with green raw vegetable flakes
Grilled shrimps
Served with quinoa marinated with tropical fruits, cucumber and coriander, avocado mousse.
Arugula Salad
Arugula salad, fresh strawberries, caramelised walnuts, crostini with goat cheese, chia seeds and radish slices, balsamic reduction and strawberry dressing
Tropical Fish Salad
Fresh Fish croquettes, served on mixed green salad with carrot, radish, green papaya, hearts of palm, mango and passion fruit dressing
__________________________________________________
Pork Ribs
Oven roasted pork ribs in a Hoisin-glaze, served with rustic potatoes and sesame flavored green beans
Veggie Club Sandwich
With homemade whole wheat bread, grilled veggies in basil pesto and local mozzarella cheese. Choose between chips of the day with herb aioli or mixed greens salad
Fish Tacos
Grilled fresh fish served on homemade corn tortillas with guacamole, red cabbage relish, lettuce, grilled pineapple, house chili and lemmon
Costa Rican Casado
Choice of slow cooked premium pulled beef, fresh fish or free-range chicken breast in sauce. Served with white rice,blackbeans,corn tortilla, criolla salad and picadillo   
---
Carrot soup
Hot carrot soup with carrot chutney, carrot confit,raw carrot flakes and fennel oil
Grilled Octopus
Slowly cooked and grilled fresh octopus, chickpeas salad, herbs pesto and red pepper sauce
Fresh Tuna Tartare
With raw green papaya, radish, asparagus and coconut-ginger dressing
__________________________________________________
Pork Duo
Pork tenderloin and pancetta, with roasted pumpkin, corn puree, caramelized leeks, sweet red wine sauce and macadamia nuts crumble
Lemon Risotto
Saffron flavored risotto, served with catch of the day fish fillet and capers sauce
Cauliflower Steak
Marinated in spices, roasted and served with wild rice and yogurt-tahini sauce
Free Range Chicken Breast
Local farmed chicken breast, roasted with Chimichurri butter, served with handmade fettuccine pasta with mushrooms variety
Fungus Texture
Variety of mushrooms and different preparations, crispy kale and porcini sauce
 __________________________________________________
Milk Chocolate mousse, macadamia nuts cake and Costa Rican coffee Chantilly
Traditional Coconut flan
Passion fruit cake with white chocolate mousse and passion fruit espuma
"BOCAS" is a word that means snack or meal in a smaller portion offered in bars to accompany the drink of preference.
In Lapa Ríos the "Bocas" are available from 3:00 pm – 6:00 pm
Cassava balls
It is a traditional dish in Costa Rica, stuffed with meat or cheese, with green papaya salad and aji mayonnaise
House chips
Chips of the day, accompanied by guacamole, pico de gallo and ground beans.
Assorted Plate
Homemade corn tortillas accompanied by chayote picadillo, plantain picadillo with curry and coconut milk and palm heart picadillo
Bruschetta
Slices of homemade toast bread, smeared with sweet garlic and parsley, olive oil, diced tomato, basil and fresh buffalo Costa Rica mozzarella
Mixed seeds
Mixed seeds and raisins, seasoned with pepper salt, lemon and curry
Little and Larger Appetites!
PB & J  HomeSandwich
Homemade fruit jelly and peanut butter over white bread, served with  tropical fruit cubes.
Osa Burrito
Grass-fed chicken breast or fish fillet with ground black beans, cheddar cheese, rolled in a wheat tortilla and served with guacamole and pico de gallo  or fresh fruits.
Howler Quesadilla
Flour tortilla filled with chicken breast or fish fillet or grill vegetables, cheddar cheese and mozzarella cheese. Served with guacamole and pico de gallo or fresh fruits.
Rio's pasta
Penne pasta tossed in fresh tomato sauce or butter, served with parmesan cheese. If you like, you may add chicken breast or fish filet.
Golfo Dulce grilled fish or chicken filet
Served with white rice and green salad or grilled vegetables.
Dessert:
Tropical fruit cup
Brownie with vanilla ice cream
Coconut flan
Cheesecake with dulce de leche
---
Wellness In Suite
GIVE YOURSELF AN ECO WELLNESS FOREST EXPERIENCE
Each experience has been designed to savor the jungle and exotic surroundings. You must live in the moment. 
Leave your well-being in the hands of our butler spa. Receive the different services in the privacy of your suite, creating a unique experience. A wide variety of spa and wellness services are available for delivery in the suite, including massage, body treatments, facials, personalized yoga sessions or sensory aromatherapy.
---
Connected with nature
Back Release 30 minutes – $50.00
Relieves stress and muscle tension in the back, neck and shoulders. Includes stretching and pressure points.
Head Massage 30 minutes – $50.00
Focusing on the head, neck and shoulders, this pressure point massage technique frees the mind from stress and recovers lost energy.
Foot Acupressure 30 minutes – $50.00
Enjoy massage that targets trigger points in the feet to promote relaxation and rebalance your body.
Detoxifying, Firming or Moisturizing Body Scrub 30 minutes – $60.00
Our exfoliants are appreciated for their therapeutic properties. Their active ingredients nourish, replenish and help detoxify the skin. The skin is hydrated with coconut oil and lavender aromatherapy that soothes and deeply relaxes the body and mind. The selection of exfoliants are recommended by our based-on analysis of your skin.
Tropical Truffle Wrap 40 minutes – $80.00
Let yourself be carried away in a comforting wrapper that deeply hydrates and softens the skin, leaving it silky smooth. Each of the wraps is personalized and enriched with vitamin e or c according to the condition of your skin.
---
Facial Mask 30 minutes $60.00
Facial Mask + Contour Eyes 45 minutes $75.00
Facial Mask + Contour Eyes & Lips 60 minutes $95.00
Our facials illuminate, de-stress and refresh. An exquisite treatment, specially designed in the cabin for each area of the face, which brings together a unique combination of facial masks, for the contour of the eyes, lips and a specialized lymphatic massage, ideal to reduce the signs of aging and eliminate stress. Cryotherapy ice cubes reduce swelling and cool the eyes. You choose the areas to focus on and the time.
Forest Immersion
Aroma Head Passion 45 minutes $60.00
It is a gentle, relaxing treatment that includes stretching, pressure points, aroma, thermos and I create therapy.  It offers relief to the ear, nose and throat.
Revitalizing Crystal & Massage 60 minutes $100.00
This full body salt exfoliation, rich in trace elements, purifies, eliminates toxins and restore balance to your skin.
Luxury Chardonnay Treatment 50 minutes $95.00
Antioxidant-rich grapeseed extract is the basis for this full body, anti-aging, vinotherapy ritual. Your skin is left glowing and rejuvenated after this indulgent experience.
Couple Massages 60 minutes $180.00
A warm rose quartz massage and personalized essential oils combine perfectly to ignite the feeling of positivity and love.
45 minutes $60.00          60 minutes $100.00          75 minutes $125.00 90          minutes $150.00
This massage is adapted to the taste of each one.
You can choose pressure, areas to work, technique and time. You create your own experience.
Optional you can add for an extra cost.
*Exfoliation of arms and hands. *Back exfoliation. *Exfoliation of feet and legs. *Cold packs.
Luxurious & Exotic
Choose the Time
75 minutes $115.00              90 minutes $135.00
Skin brushing | Amethyst body mask | Cold aloe body massage
Give your mind and body an intense dry brush and breathe in the aromatic body scrub of ginger and lavender to revitalize tired, dull skin. Followed by
a refreshing application of our Amethyst Body Mask; a moisturizer that synergizes the healing and regenerative powers of crystals. While enjoying a refreshing cold body massage followed by a scalp argan oil elixir.
Enjoy a body exfoliation with sand and wrap to relieve muscular, arthritic and joint pains. Includes an energetic balance massage with quartz.
Passion Fruit, Jade & bamboo
Inhale the soothing and balancing benefits of Passion Fruit in this completely uplifting and rejuvenating spa experience. Enjoy a two-step, three-step body treatment, exfoliation, warm wrap with a jade massage and full body bamboo.
Create your own spa treatment with a 20% discount by choosing the right exfoliation and wrapper for your skins needs. Enjoy a truly individual spa trip. We recommend adding your wrapper and scrub to any massage or facial treatment to promote a holistic healing experience for both body and mind. For more information, consult your spa therapist.
GET IN TOUCH
BY ONLINE CHAT
Daily 7AM-6PM CST
Quick Answers. Always!
BY PHONE
Daily 7AM-6PM CST
Toll free US & Canada:
+1 800 963-1195
Reservations:
+506 4070-0420
BY EMAIL
FAQ's
Questions? We've got answers for you!
OUR LOCATION
Cabo Matapalo
Puerto Jimenez
Costa Rica
GPS: 8º24'1" N, 83º16'50″W