Lapa Rios Guide School: Season II
Here at Lapa Rios, we believe that no matter how you cut it, a rainforest left standing is worth more.  Indeed for two decades our raison d'être has centered on the use of tourism as a means to acquire and protect the endangered rainforest that surrounds us.  From this very mission, our Guide School was born at the close of 2016.  The four-month pilot project – created to raise the overall standards of tour quality in the area and to forever end the days of "importing" guides to the Osa – was such a roaring success that one year on, we're now in the thick of Season II.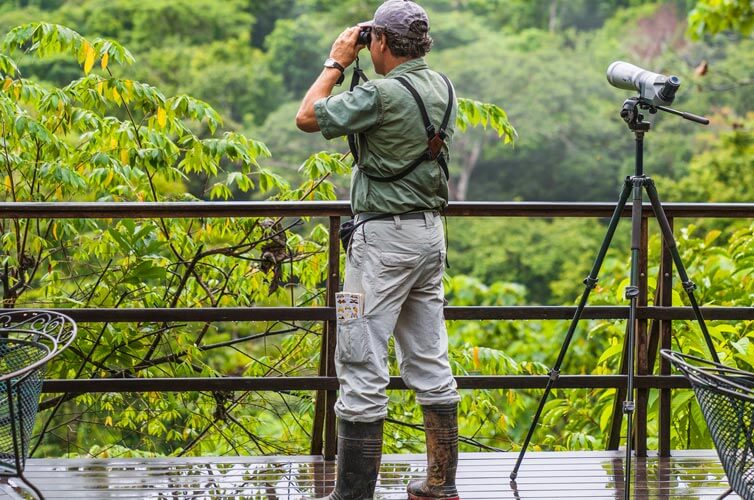 Our guides have a sharp eye for spotting wildlife and new talent hidden away in other departments of the lodge
The cohort of our inaugural year was small. Under the supervision of Danilo, our most practiced guide with over 20 years of experience, three staff members received intensive classes covering everything from botany and dendrology to ethics and zoology.  And extending the initiative beyond Lapa Rios, Danilo also launched a Guide's Course at the local high school.  His objective was to inspire and introduce a group of 45 tourism students to the basics of guiding.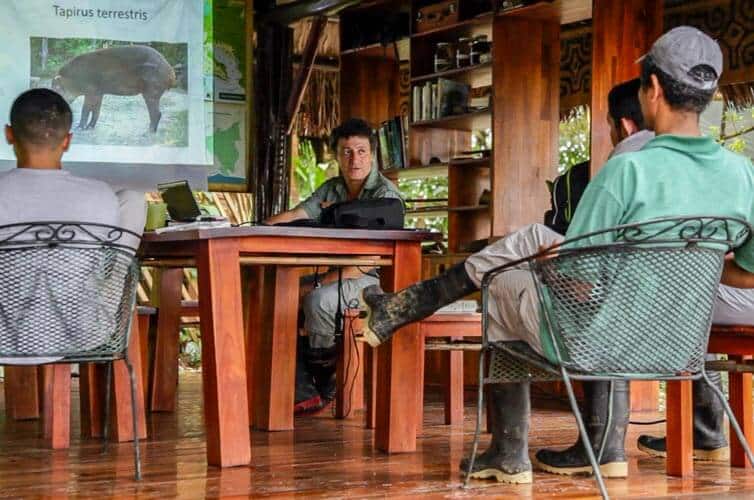 This year, Danilo's weekly classes are attended by seven dedicated guides in the making
This year, the school has grown in number of students and teachers.  The Lodge's full-time guides, including Jeffry, a successful graduate of the pilot program, have joined forces to impart their combined knowledge upon seven students.  As head lecturer, Danilo's weekly classes, now attended by four staff members and three locals including his own son, have been 10 months in the making.
"I created the school to train up new guides from the local area to have a reserve for the hotel" says Danilo.  "We're also planning for the future and working with younger students who we hope will one day join us at Lapa Rios."  But, the school's reach is potentially far greater.  We are working towards a scenario where responsible tourism becomes a major source of income in the Osa.  By training the guides on our philosophy of nature conservation and sustainability, we hope to inspire a new generation of advocates for the preservation of the surrounding rainforest.  "With a focus on our Lapa Rios values, I see a very promising future for the school" says Jeffry.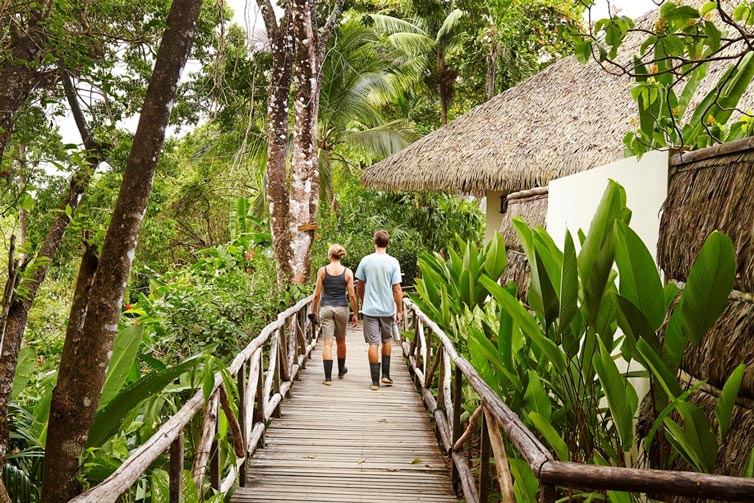 Come 2018, our guests may have the chance to try their hand at naturalist guiding
Our guests tend to be highly impressed with our guides or, "walking encyclopaedias" as they're affectionately referred to!  And sometimes without even realising it, guests pick up a lot of the local knowledge.  They leave Lapa Rios able to recognise the calls of toucans and scarlet macaws.  They learn to tell the difference between fours species of monkey and maybe even recite their Latin names too.  In 2018 we hope to create a package for those guests with a great enthusiasm for wildlife to come to Lapa Rios and receive a guide certification during their stay.  Drop us a note to find out more!